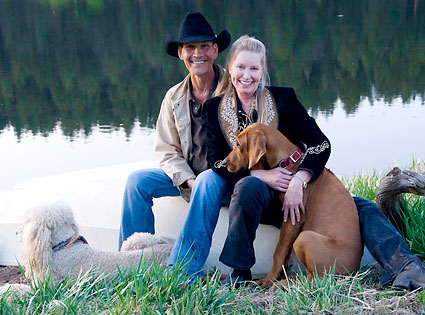 LOS ANGELES -- Actor Patrick Swayze died Monday following a battle with cancer.
Swayze, 56, announced last March he was suffering from a particularly deadly form of pancreatic cancer. Some reports at the time gave him only weeks to live, but his doctor had said his situation was more optimistic.
Patrick put up a good fight but the press is announcing that he died.
Who wasn't in love with him as Johnny from Dirty Dancing or as the loving husband in Ghost?
My cousins during the Dirty Dancing hayday were in love with him. I must have seen Dirty Dancing at least 100 times.
"One thing I'm not gonna do is chase staying alive," Swayze told
Barbara Walters
in January. "You spend so much time chasing staying alive, you won't live." We should all be as brave as Patrick was since learning of his fate. He definitely lived and loved.
I am sad for his wife since 1975, Lisa. They seemed to have had an amazing life together. Hopefully he is once again Dancing and pain free.
This BTW..is one of my favorite songs. Love the tone, the music, the words